BurtLaw's Legal History

BurtLaw.Com

- LawAndEverythingElse.Com - Copyright (c) 2006 Burton Randall Hanson


Justice delayed...99 years.
On Thursday, March 1, the Washington State Supreme Court -- perhaps having noted that Asian-American voters are now a potent force in Washington State elections -- finally got around to
trying
to correct an injustice (one it perpetrated) when it posthumously admitted the late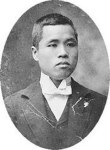 Takuji Yamashita to the practice of law. Mr. Yamashita came to the U.S. in 1893 to seek his fortune. He graduated from the University of Washington Law School in 1902, but when he applied for admission to the Bar, the Washington State Supreme Court said, "Sorry, Takuji, but you aren't a U.S. citizen and therefore you can't be a lawyer." Trouble was, "Japs," as they were called in those days, weren't eligible for "naturalization." In
Yamashita v. Hinkle
, 260 U.S. 199 (1922), the good Justices of ye olde U. S. Supreme Court had no trouble concluding, as they had concluded before, that "persons of the Japanese race born in Japan [are not] entitled to naturalization under...the Revised Statutes of the United States." In his late 50's, during WWII, Mr. Yamashita was interned in one of FDR's internment camps, losing his businesses in the process. When he got out, he returned to Japan, where he died. His story is told in detail in a long
article
by Steven Goldsmith in a University of Washington alumni publication.

Now it's easier -- for some, automatic: the Child Citizenship Act becomes law.
Many American citizens who have adopted children born outside the U.S., including some neighbors of mine with beautiful, bright kids from China, found the naturalization process redundant and cumbersome. And some adopted children whose parents negligently failed to take the necessary action before the children reached 18 found themselves disadvantaged. Congress did something right in 2000, enacting the Child Citizenship Act, providing automatic citizenship to those adoptees meeting the Act's
criteria
. The law became effective on 02.27.01.

Miné Okubo, Internee # 13660.

She was a lovely 29-year-old Riverside California native, with a master's degree in art, who had won her college's highest art honor, a fellowship.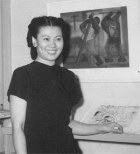 The fellowship allowed her to study and travel in Europe. When WWII broke out in Europe, she cut short her studies and travels and returned to California and assisted the famous Mexican artist, Diego Rivera, as he painted murals on a WPA project in San Francisco. Then the Japanese attacked Pearl Harbor. Although she was an American citizen who had never done anything wrong, she was of Japanese ancestry and "therefore" was forced into one of the "protective relocation camps" advocated by Earl Warren, authorized by FDR, and approved by the U.S. Supreme Court. [
more
] Cameras were not allowed in the camps, but she was an artist and so she drew pictures of daily life in her camp, in Utah, and sent them to friends. One of the drawings won a prize in a San Francisco art show. Then
Fortune
magazine commissioned her to illustrate some stories, which led to her early freedom. Eventually, the camps were closed. In 1946 200 of her drawings were collected in a memoir,
Citizen 13660
(published by Columbia University, reissued in 1983 by U. Wash. Press). [
more
] Much later, the government apologized. She died recently in Manhattan, where she had been living and painting in a studio for the last 50 years. She is survived by a sister. Two brothers served in the U.S. Army in WWII; one received a Purple Heart; one was stationed for a time at Fort Snelling here in Minnesota. She was one of three artists profiled in a 1996 video documentary,
Persistent Women Artists
. (02.26.2001)


Let us now praise famous men.
But not if it involves overlooking the truth. To wit: fifty-nine years ago the President, FDR, signed an order placing over 100,000 Americans of Japanese ancestry living on the west coast in "relocation camps" (a euphemism for "concentration camps"), where they remained until 1945, when FDR rescinded the order.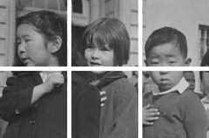 The leading proponent of the relocation was then California Attorney General (later U.S. Chief Justice) Earl Warren, who argued that no one could "tell a saboteur from any other Jap" and therefore they all had to be treated as saboteurs. He later offered this excuse: "I didn't think I had any choice." In 1944, the great liberal, Justice Hugo Black -- who had paid $6 to buy one of his robes, the white one, when he joined the Ku Klux Klan at age 37 in 1923 -- wrote the majority (6-3) opinion in
Korematsu v. U.S.
, 323 U.S. 214 (1944), validating the 1942 relocation order. Two decades later he "explained" that "They all look alike to a person not a Jap" and that the relocation actually had protected "the innocent ones" from being shot by ordinary Americans if "the Japs" had attacked the west coast. Justice Felix Frankfurter, who knew that millions of Jews had been confined wrongfully in concentration camps (and exterminated) by the Nazis, gushed in a confidential note to Black that he "agreed entirely" with Black's opinion and would join it "without the change of a word." The Japanese American Relocation Digital Archive (
JARDA
) is a gateway to the archival and manuscript holdings of numerous California archives and museums. It contains, among other things, oral histories, personal diaries, letters, camp newsletters, photographs, drawings, government reports. (02.01.2001)

It is not an online newspaper and is not affiliated with or intended to be mistaken for any existing or previously-existing newspaper or journal. Rather, it is a so-called "blawg," a law-related personal "web log" or "blog," one with a subjective, idiosyncratic, and eccentric sociological and social-psychological slant that focuses not on the latest judicial decisions of supposed great importance but on a) the institution of judge in the United States and in other countries throughout the world, b) the judicial office and role, c) judicial personalities, d) the great common law tradition of judging as practiced here and throughout the world, e) judges as judges, f) judges as ordinary people with the usual mix of virtues and flaws, etc. We link to newspapers and other sources in order to alert the reader to ideas, articles, stories, speeches, law books, literary works and other things about "judges" that have interested us and that may interest the reader.
We don't promote our blawgs, but readers of this blog and of our affiliated political opinion blog,
BurtonHanson.Com
, may be interested in it. We don't think there is another blawg quite like it.