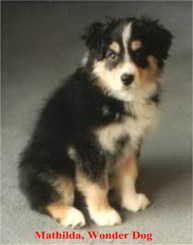 Law and its many connections -- law and literature, love, lollipops, & fun, law and everything else under the sun

Notes: 1) LawAndEverythingElse.Com & BurtLaw.Com don't solicit business for any law firm or give legal advice, other than that lawyers may be hazardous to your health. There are many more bad ones than good ones. Who can find a virtuous lawyer? Her price is far above rubies. It is easier for a camel to pass through a needle's eye than for a lawyer to inherit the Kingdom of Heaven. So saith the Lord. 2) In linking to another site or source, we don't mean to say we necessarily agree with views or ideas expressed there or to attest to the accuracy of facts set forth there. We link to other sites in order to alert you to sites, ideas, books, articles and stories that have interested us and to guide you in your pleasure-seeking, mind-expanding, heart-opening, soul-satisfying outer and inner travels.


About BRH

BurtLaw.Com

- LawAndEverythingElse.Com - Copyright (c) 2006 Burton Randall Hanson

Blogger Hanson May Have Summer Virus.

Sat Aug 10, 9:21 AM CDT By ARMOND POUSSAINT, Dissociated Press Writer LAKE CALHOUN, Minn. (DP) - In a declaration reminiscent of former President Reagan's 1994 "sunset of my life" letter to the American public, judicial-election losing blogger Burton "BurtLaw" Hanson revealed he has symptoms consistent with "some sort of summer virus." "I'm not going to quit blogging," the 39-year-old windmill-tilter and president of his own fan club said in an audio-taped statement played Friday at a news conference at his favorite spot on the north shore of

Lake Calhoun. "But I may have to cut back a bit," he continued. "In fact, you may have noticed I didn't make any postings several days this week. Please, don't feel sorry for me. I don't. If anything, feel sorry for yourselves." Hanson, who taped the message Wednesday, said he hadn't consulted any doctors and didn't intend to do so. "I had polio in the late 1940's, when I was a kid. If I recall correctly, I was laid up for six months. Had to use a kid-sized blue wooden cane. Sort of got to like the extra attention people showered on me. Became a sort of masochist. Still am. If anyone can find pleasure in this, I can. And if my friends pitch in and start doing stuff for me, I may come out ahead. I wanted to prepare a few words for my suckers, er, my friends, now, because if I wait I may be over it and it'll be too late to 'milk' the thing for all it's worth," he said. The blogger, whose website is visited 24/7/52/365 by some sucker somewhere in the world, did not shy away from dramatic flourishes in making Friday's announcement. Every news release he tried to hand out to attractive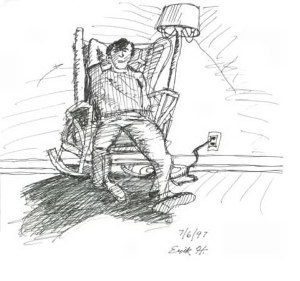 women walking by the bench on which he was seated was personally autographed by Hanson. "I can sit on my ass by my computer adding crap to the blog or I can sit in the sun catching a soft southerly breeze over the water reading Emerson, but I can't do both at the same time, which is why I'm sitting here right now saying 'hi' to all the attractive chicks walking by," Hanson said as he explained his reasons for going public. "I applaud his going public with the information," Victoria de La Stevens, star of the un-released
Summer of '95
, said in a written statement forged by Hanson Friday. "I know all too well the cruelty of some sorts of summer viruses, which sap a vigorous, sinewy man of the strength needed to even get up from his park bench, much less get it up for some afternoon delight with a star like me at a cheap hot-sheet motel. I pray that God will give Hansycats...the strength to overcome this affliction, and quickly -- I have only so much patience." In the taped statement, Hanson sounded somber. "I'm good at feigning such things. During my 28+ years as an aide to judges, I had many, many occasions to feign seriousness, humility, modesty, gravity, you name it." Summer viruses of some sort, the kind Hanson may have, are not among the leading causes of death in the United States, and they are easy to feign. Most people have one at some time or another, or at least feign one. Hanson, serving as his own spokesman, said the blogger decided to make a taped statement instead of a live appearance because he wanted to be deliberate with his words and give a gravitas to the announcement that it otherwise might not merit. "I'm confident this will work," he said in his statement. "I believe it will. But if it doesn't, I may give
Mathilda, Wonder Dog
a grooming and tie a ribbon around her neck. Chicks are always suckers for Mathilda. She's a real chick magnet. Always has been." (08.10.2002)
Related item:
Actor Heston may have Alzheimer's
(
Yahoo
08.10.2002)
It is not an online newspaper and is not affiliated with or intended to be mistaken for any existing or previously-existing newspaper or journal. Rather, it is a so-called "blawg," a law-related personal "web log" or "blog," one with a subjective, idiosyncratic, and eccentric sociological and social-psychological slant that focuses not on the latest judicial decisions of supposed great importance but on a) the institution of judge in the United States and in other countries throughout the world, b) the judicial office and role, c) judicial personalities, d) the great common law tradition of judging as practiced here and throughout the world, e) judges as judges, f) judges as ordinary people with the usual mix of virtues and flaws, etc. We link to newspapers and other sources in order to alert the reader to ideas, articles, stories, speeches, law books, literary works and other things about "judges" that have interested us and that may interest the reader.
We don't promote our blawgs, but readers of this blog and of our affiliated political opinion blog,
BurtonHanson.Com
, may be interested in it. We don't think there is another blawg quite like it.