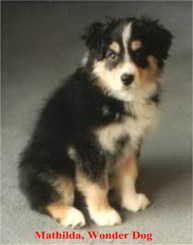 Law and its many connections -- law and literature, love, lollipops, & fun, law and everything else under the sun

Notes: 1) LawAndEverythingElse.Com & BurtLaw.Com don't solicit business for any law firm or give legal advice, other than that lawyers may be hazardous to your health. There are many more bad ones than good ones. Who can find a virtuous lawyer? Her price is far above rubies. It is easier for a camel to pass through a needle's eye than for a lawyer to inherit the Kingdom of Heaven. So saith the Lord. 2) In linking to another site or source, we don't mean to say we necessarily agree with views or ideas expressed there or to attest to the accuracy of facts set forth there. We link to other sites in order to alert you to sites, ideas, books, articles and stories that have interested us and to guide you in your pleasure-seeking, mind-expanding, heart-opening, soul-satisfying outer and inner travels.


a) "What are little girls made of?/ Sugar and spice/ And all things nice,/ That's what little girls are made of." Nursery ryhme.
None ever heard of a good marriage from Mesopotamia to Missouri and yet right marriage is as possible tomorrow as sunshine. Sunshine is a very mixed & costly thing as we have it, & quite impossible, yet we get the right article every day. And we are not very much to blame for our bad marriages. We live amid hallucinations and illusions, & this especial trap is laid for us to trip up our feet with & all are tripped up, first or last. But the Mighty Mother who had been so sly with us, feels that she owes us some indemnity, & insinuates into the Pandora-box of marriage -- amidst dyspepsia, nervousness, screams, Christianity, "help," poverty, & all kinds of music -- some deep & serious benefits & some great joys. We find sometimes a delight in the beauty & the happiness of our children that makes the heart too big for the body. And in these ill assorted connections there is ever some mixture of true marriage. The poorest Paddy & his jade, if well-meaning & well-tempered, get some just & agreeable relations of mutual respect & kindly observation & fostering each of other, & they learn something, & would carry themselves wiselier if they were to begin life anew in another sphere.